To access the deposit location
Please note:
Use these instructions to deposit publications into OPAL via My Publications. The types of publications that can be deposited are listed here.
Log into My Publications, with your LTU credentials.
On the home page scroll down to 'Publications'.
Select 'View All'. This will bring up a list of the publications that you have in My Publications.
Find the name of the publication you would like to deposit into OPAL. You will see a black 'deposit' (see image below). When hovering over this icon it will say "Deposit Full Text". Select this.
Read the Institutional advice regarding depositing publications in OPAL.
Copyright license advice can be found here.
Check the SHERPA/RoMEO advice. Please read this carefully. It will tell you which version of your publication you can upload into OPAL.
PDF versions of text documents are preferred.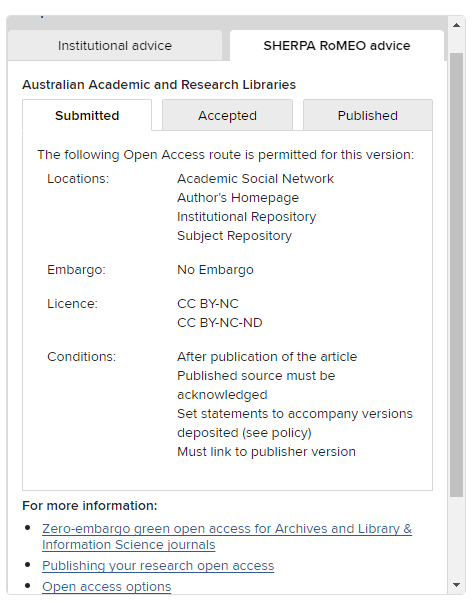 Three-step deposit guide
Upload your file. Please make sure that it is the appropriate version based on SHERPA/RoMEO advice if applicable.
If your publication is already accessible in an Open Access form, you can instead enter the URL of its location.
Add additional information:
Here you can specify an embargo and a reuse licence.
For further information on embargo, check the SHERPA/RoMEO advice to the left of your screen. If you are unsure which embargo to select, please add a comment and the Repository team will get in touch.
For reuse license which determines how you would like others to use your work in the future, you will be given further information about a license by selecting an option from the dropdown menu. If you are unsure, please choose Unknown and comment. This is essential for copyright purposes.
To complete the process, click on the blue 'Deposit' box.
By doing so, you are confirming you agree to the OPAL Publishing licence.
You will then see a 'Thank you' message confirming deposit of your publication into OPAL.
The next stage
Your submission will now be checked by the Repository team. To check its progress, select the title of the publication. You will see that it is either 'in review' or 'live'.